Super Aladdin Live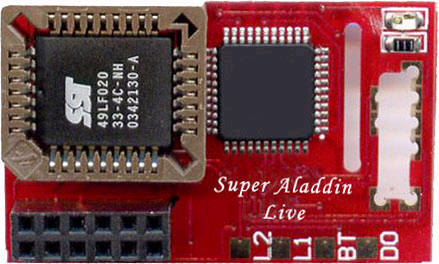 The Super Aladdin Live is new and compatible with all XBOX, all bios and all regions. Build with Cromwell bios, you can easily flash the chip with the bios you want. The chip can be turned on/off from the power button, to allow XBOX Live to run correctly.

* Support new X-BOX version1. 0-1.6
* Support online game 1.0-1.6
* One chip for all current existing X-BOX
* Very easy to disable X-BOX Live Disc
* Plays original imports
* Plays Backups of originals
* Plays unsigned code-Run Debug Executables
* No-patch hack 1
* No-patch hack 2
* IGR
* Eject trick hack
* Macrovision Off
* DVD Reset
* EvoX HDD Patch
* Auto detect EvoX Dashboard
1.Play the original games and online games (the chip is disabled):
Please press the POWER button and then release quickly! the host works with the original BIOS The Aladdin BIOS is not available), it really seems hasn't be modified yet. you can play original games or online games through this way.

2.Play BACKUP games and import games (enable this chip):
Please press the POWER button for about 1 second, then the EJECT LED turn red to show that the Aladdin BIOS now is available, then the backup discs are ready.

3.Upgrade the BIOS (Flash)
Put the disc which has been burned the new BIOS file into the tray of the host, Press the power button for about 2 second and then release your finger, the upgrade menu screen displays, you can update your Aladdin BIOS step by step with your Joypad followed the clue.


Click here to download the installation guide