Boohbah 2 Pack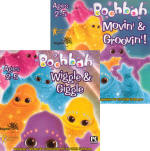 Brand New
Includes 2 full version games: Boohbah Wiggle & Giggle and Movin' & Groovin'
Humbah™, Zumbah™, Zing Zing Zingbah™, Jumbah™ and Jingbah™ are five sparkling atoms of energy powered by laughter of children! In this CD-ROM adventure you can create your own Boohbah exercise routine, make your own real Boohbah music, play a Look What I Can Do! matching game, and play a silly game with Little Dog Fido™!
Print your creations

Seashell Scramble - Help Little Dog Fido collect all of the seashells in this silly game!

Boohbah Dance - Make your own real Boohbah music and watch the Boohbahs dance!

Boohbah Exercise - Create exercise routines from 20 real Boohbah movements!

Match 'n Motion - Play a "Look What I Can Do!" matching game!

Boohball - Light up the skies with your own Boohball trails!

A Present for the Storypeople - Decorate presents with beautiful colors and patterns!

Wrapping Paper - Make your own wrapping paper and watch what happens when you use the magic Kaleidoscope!

Storyworld Picture Book - Create your oPwn Storyworld adventures using real poses, backgrounds, and presents from the show!
Windows® 98, Me, 2000, XP
Pentium® II 300 MHz or faster (Pentium III 500 MHz for 2000 or XP)
128 MB RAM
50 MB free hard disk space
800x600 monitor, 16-bit color
16-bit DirectX® compatible video card
Windows-compatible sound card & speakers
4X CD-ROM drive
Printer recommended


Mac OS® 8.6–9.2, OS X
300 MHz G3 or faster (400 MHz G4 for OS X)
32 MB RAM (128 MB for OS X)
50 MB free hard disk space
800x600 monitor, thousands of colors
16-bit color video card
4X CD-ROM drive
Printer recommended