Crystalize!
The Crown Jewel of Puzzle Games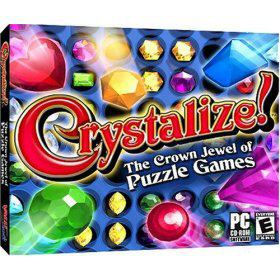 Brand New
Factory Sealed Retail Jewel Case

From distraction to addiction with Crystalize! Minutes turn into hours when you're playing Crystalize! Match three or more colorful crystals to clear the board. It's not addictive, it's hyper-addictive! Work the grid of dazzling stone to make a match through an endless number of levels. Find secret pieces within each jeweled grid for bonus puzzle solving. Play in two different puzzle modes for endless game play.

2 Games in One!
Select Collector Mode where collecting matched crystals is the path to success, or play Quest Mode where special key crystals become the only way to unlock your next puzzle adventure.

Dazzling Fun for Everyone!
Play in 3 difficulty levels for endless hours of fun.

Crown Jeweled Bonuses!
Get extra bonuses and points when you match special crystals!

Can You Match the Special Pieces?
Uncover mystical crystals to set off powerful explosions to clear lines or to rearrange your crystal collection.

Windows 98, Me, 2000, XP
Pentium II 500MHz or compatible processor
128MB available RAM
55MB free hard drive space
DirectX compatible sound card
DirectX compatible video card
CD-ROM Drive