Curious George
Learns Phonics for Kindergarten - 1st Grade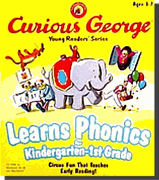 Brand New
Factory Sealed Retail Box
George is up to his usual antics, sending circus animals flying through the air in dashing acrobatics, laughing at the clowns' jokes, playing music, and chasing down letters and their sounds. Six games and activities teach children to recognize letters, sounds, and to sound out words as their build basic reading skills.


Teaches the way children learn.
As children learn about letter names, the sounds in language (phonemic awareness), and letter sound associations (phonics), they learn the basic skills of reading and writing. Children explore at their own pace and discover the joy of learning while they play games and activities that teach phonemic awareness and phonics. There are gentle challenges and fun, magical rewards.

Bring a school learning environment into your home. We use the latest research and reinforce skills developed in the widely-used Invitations to Literacy Program to help you teach your child to read.
Astonishing Animal Acrobats -- Animals fly through the air doing acrobatic stunts in this rhyming, alliteration, and blending game!

Phonics Fun House -- Clown around and see if you can make words out of letter sounds!

Peanut Pickup -- Help George and Eddie the Elephant find their way around a maze of initial consonant sounds!

Comedy Clowns -- Find loads of laughs while testing your wits and your knowledge of initial and final consonant sounds!

Sammy the Musical Seal -- Help Sammy make music while building knowledge of vowels and their sounds!

Story Theater -- Practice reading and sounding out words with Thea and her entire troupe!

Print 10 original storybooks -- featuring the Story Theater productions!
Windows 95/98/Me/2000/XP

Pentium 90MHz or higher

16MB of RAM

2x CD-ROM Drive

windows compatible sound card

256 color or higher display graphics capabilities

Mouse



Macintosh System 7.5 or higher

68040 or higher (including PowerPC), iMac, G3 or higher

16MB of RAM (32MB of RAM recommended for PowerPC)

2x CD-ROM drive

Color display

Mouse