Family Lawyer Essentials 2003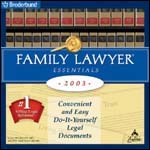 Brand New - CD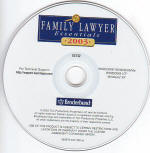 Turn burdensome legal chores into quick, easy projects with convenient do-it-yourself documents.

Save time and money by preparing your own legal documents. Packed with dozens of document templates in a variety of useful categories, this easy-to-use resource minimizes the stress, anxiety, and expense of many routine legal projects. Whether you're managing your finances, corresponding with the government, or planning your estate, you'll complete your tasks more quickly and more accurately with Family Lawyer 2003 Essentials. (Estate planning documents are not valid in Louisiana.)
Take advantage of a huge variety of estate planning documents, from basic worksheets to powers of attorney, living wills, survivor checklists, and more.
Help take care of family legal concerns with documents such as premarital agreements and child care authorizations.
Handle financial issues with documents for stopping payment on checks, reporting lost or stolen credit cards, requesting credit reports, and more.
Rest assured that all of the documents in this useful collection are fully updated to conform to current federal and state laws.
Access the documents you need quickly and easily with the new Product Launcher feature.
Includes retail CD in windowed sleeve - all documentation on CD.
Windows 98/ME, 2000, XP . 150 Mhz Pentium (300MHz Pentium II or faster for Windows XP); 32 MB RAM (128MB RAM for Windows XP); 2X CDROM; 50 MB Hard disk space; 800x600 resolution with 256 colors; mouse; printer