Freddi Fish
And the Case of the Missing Kelp Seed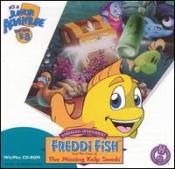 Brand New CD-Rom

Without them, all the fish will go hungry. Luckily, Freddi Fish and her finny friend Luther are on the case! But the ocean's a big place and there's a lot of ground to cover - caves, canyons, reefs and more. Children will dive right into this fascinating adventure and all the colorful characters that go with it. It's an underwater world of discovery, laughter and learning, all in one. Includes CD in sleeve - instructions on CD
Rich feature-film quality hand-drawn animation

Develops problem-solving and critical thinking skills

More than 400 secret click points

Lively music and sound effects

Unequaled cast of friendly characters


Your child must help Freddi in her quest to find the missing kelp seeds and save all fishdom. To succeed, he or she needs to locate items and, when necessary, trade with other sea creatures to get the kelp seeds.

This story adventure is more challenging than the other Humongous titles, but its solution is still within the most elementary school-age children. Better graphics and animation also set it apart from its sibling titles.

Windows 95, 98, ME, XP (also compatible w/ Vista)
Pentium III 600 MHz or higher processor (Pentium III 800MHz recommended)
128 MB of RAM for 95, 98SE, Me, 256MB of RAM for 2000 and XP
600 MB Free Hard Disk Space
8X Speed or faster CD-ROM Drive
16MB SVGA video card*
DirectX version 9.0 (included) or higher)
Macintosh: Minimum 25 MHz 68040 or Power PC with 8 MB of RAM, 640x480, 256 color, System 7.0 or higher, double speed CD-ROM drive