Jay Jay the Jet Plane 2 Pack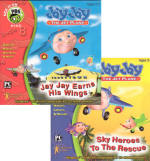 Brand New
Includes 2 Full Version Games: Jay Jay the Jet Plane Earns His Wings & Sky Heroes to the Rescue
Jay Jay is nearly ready to embark on his very own delivery route! But first, the young jet plane must show he has mastered all the right skills. Hit the skyway for fun, games, and lessons about nature, numbers, and math. Help Jay Jay pick up packages and pass his tests with flying colors! Then celebrate with the best fleet of friends a child could ever have!
Help Herky™ the Helicopter round up numbers on a slippery slalom. Follow Jay Jay's directions to stay on course!

Lightning bugs dance, creating a pattern of colored lights. Click on the bugs that repeat the same sequence!

Use a variety of tools to measure objects for Big Jake's™ cargo hold. That bicycle is two hammers high!
The legendary Sparkleberry Tree™ of Pangabula Island™ has lost its glimmer. Fasten your seat belt for a sky-high rescue mission! Jay Jay™ and his valiant fleet of flying friends need your help to collect soil, sunlight, food, and water to save this precious tree. Sing, play, and learn about nature, letters, words, and more. We'll help your imagination soar!
At the local quarry, follow instructions to sort and mix the perfect ingredients for rich soil. Hurry, the tree is waiting!

In the forest, large flocks of birds are blocking the sun. Sort and sequence by letter and case to help them fly away!

Pangabula Island™ is smothered in smog! Follow Herky's™ instructions to fly through a maze and clear the smog away!
Windows® 98, Me, 2000, XP
266 MHz Pentium® or faster
64 MB free RAM (128 MB for 2000 & XP)
35 MB free hard disk space
16-bit DirectX® compatible video card with 2 MB memory
800x600 monitor, 16-bit color
Sound card & speakers
8X CD-ROM drive
QuickTime® 5 or later
Printer recommended

Mac OS® 8.6–9.2, OS X version 10.3.9 or lower in Classic mode
266 MHz G3 or faster
64 MB free RAM
35 MB free hard disk space
16-bit color video card
800x600 monitor, thousands of colors
8X CD-ROM drive
QuickTime® 5 or later
Printer recommended