Mercer Mayer's Little Critter and The Great Race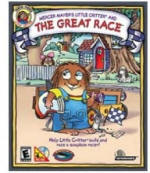 Brand New CD-Rom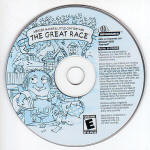 Join Little Critter to help find the parts he needs to build a racer for the annual Critterville Soapbox Derby. Search from bedroom to basement, hardware store to the haunted house; make trades, play games and solve puzzles to gather and earn parts from the fun and friendly folks around Critterville. Best of all, once Little Critter's racer is complete, you can race it in the Soapbox Derby! This adventure-style game is perfect for Little Critter fans everywhere! Includes retail CD in windowed sleeve - all documentation/instructions on CD.
Over 20 locations to explore all around Critterville. 3 cool racers to choose from for a different adventure each time. 6 challenging mini games and puzzles: The Recyclotron, The Balloona Palooza, The Great Race itself and more! Eye-catching animation and colorful backgrounds
Win95/98/Me/XP: Pentium 100 MHz (166 MHz recommended), 8 MB RAM (16 MB recommended), 1 MB free hard drive space if you want to save your games, 4x Speed (8x Speed recommended), Super VGA (640x480x256), Sound Blaster 16 or 100% compatible Sound Card.

Macintosh: System 7.1 or higher, 68040 33 MHz or higher, 8 MB installed RAM (5 MB RAM free), 1 MB hard drive space if you wish to save your games, 2x CD-ROM drive or faster, 640x480x256 color display.