Mosby's Medical Encyclopedia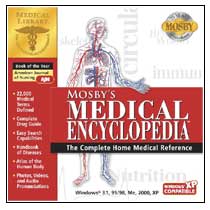 Brand New - CD-Rom

From the World's Leading Medical Authority
For more than 75 years, doctors, nurses, medical students, and other health care professionals have depended on Mosby, the world's foremost health care publisher, for reliable medical information. Now the world's leading medical resource is tailored to your needs—with easy-to-understand language and vivid multimedia. Whatever medical questions you have...Mosby's Medical Encyclopedia™ gives you the answers you need. Quickly. Clearly. And easily.
SEARCH
Type in a body part, a drug, a disease, or any other medical term to instantly access articles, definitions, video clips, and more—all cross-referenced to related topics.

ENCYCLOPEDIA
From measles to Bells' Palsy, ibuprofen to digitalis. In-depth disease profiles include symptoms, causes, and treatments.

DRUGS
Understand the medications you're taking. Get descriptions of prescription and non-prescription drugs, including possible side effects, and learn about potentially harmful drug combinations.

MULTIMEDIA
What really happens during arthroscopy? And how do you pronounce "ethotoin"? Find answers in thousands of photos, videos, animations, and audio clips.

BODY ATLAS
View 70 full-color illustrations, complete with 800 labels and definitions. Click on any part of the body—like aorta or cerebellum—to learn more about it.
Includes retail CD in windowed sleeve - all documentation on CD.
22,000 Definitions

Illustrated Atlas of the Human Body

100 Video Clips and Animations

1,200 Photos and Images

4,000 Audio Pronunciations

Hundreds of Disease Profiles

Pediatrics Appendix

Nutrition Appendix

Height and Weight Tables

Complete Drug Guide

Easy Search Capabilities

Handbook of Diseases

Photos, Videos, and Audio Pronunciations

Book of the Year

American Journal of Nursing

Windows 95/98, Me, 2000, XP

486DX2/66 MHz or faster

8 MB RAM (16 MB highly recommended)

70 KB free hard disk space SVGA monitor,

256 colors (16-bit color recommended)

Windows-compatible sound card & speakers

2X CD-ROM drive Printer (Optional)

Internet access (required for online features only, Optional)