Open Season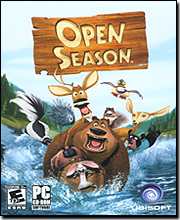 Brand New
Factory Sealed Retail Box

Boog, a friendly 900-pound grizzly bear, lives with Park Ranger Beth in the town of Timberline. The domesticated bear spends his days performing in Beth's wilderness show, riding in her truck, and sleeping comfortably in her garage. Boog lives the good life - until a pesky, but fun-loving, one-horned mule deer name Elliot comes into his life and changes it forever.

Elliot gets Boog into some trouble which forces Beth to send them both to the forest for good. Boog's lost in the in the wilderness and to make matters worse, he and Elliot suddenly realize that hunting season is now open!

All Boog wants to do is get back to his comfy garage in Timberline, and to do so, he must now learn to make friends with the other animals and get their help to scare away that crazy Shaw and the other hunters. Help Boog become a wild grizzly bear so he and Elliot can defeat Shaw and return the forest to nature's control!
Play as Boog and Elliott and relive the movie adventure!

Interact with Beth, Shaw, and all your animal favorites from the Open Season film!

Throw skunk bombs, hurl rabbits, use acorn-firing squirrels, and pull outrageous woodland pranks to scare the pants off the hunters!

Roll in a giant snowball, ride the rapids on a floating outhouse, zip through tunnels in a crazy mine cart ride, and take on more madcap adventures as Boog discovers how to get wild, animal-style!

Challenge your friends in hilarious four-player mini-games!
Windows 2000 and XP only

1.5 GHz Pentium 4 or AMD Athlon (2.0 GHz recommended)

256 MB of RAM (512 MB recommended)

1.93 GB Hard Drive Space

Video Card: 64 MB DirectX 9.0c compliant (supporting shader model 1.1) (Supported Video Card at time of release: NVIDIA GeForce 3/4/5/FX/6/7 series (GeForce 4 MX not supported; ATI RADEON 8500/9000/X families) NOTE: Laptop versions of these may work but are not supported.

Sound Card: 16-bit DirectX 9.0c compliant (PC audio solution containing Dolby Digital Live required for Dolby Digital audio)

DirectX version 9.0c (included on disc) or higher

16X CD-ROM Drive or 4X DVD-ROM Drive or faster

Windows compatible keyboard, mouse and gamepads