Magix Playr Deluxe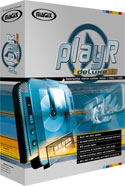 Brand New Factory Sealed Retail Box
MAGIX playR deLuxe is the interactive hi-fi system for your PC. With two different playR sections for music and video you become an interactive DJ - a digital jockey. The play mode automatically composes your personal music programs plus videos according to your wishes - a mix for each mood! If music CDs, analog records, tapes, or brand-new MP3s from the web - MAGIX? playR deLuxe puts everything you want in your speakers.

Music Organizer - your all-round archive

Now the long periods of searching are gone. You can easily find what you are looking for after arranging your music collection according to artists, style, length or many other criteria. The Music Organizer represents the basis of your individual music program in the PlayMode.

MP3 finder and Internet download

With the MP3 finder you get the newest info about your favorite stars and all actual tracks. Via the FTP download you can download sounds and songs from the MP3 internet sites - straight to the play list and up into the mix!

Processing analog recordings

Finally old music becomes fun again! Use your old tracks from LP or tape in the MAGIX playR deLuxe and put them to the digital standard with versatile cleaning functions like de-noising, de-clipping, normalizing and many more. Remix them in the RemixMode.

Make MP3 files

You want to gain some hard disk space on your PC or send some musical e-mail greetings? You have your own web sites or a MP3 walkman? Make your own MP3 files - really fast! MAGIX playR deLuxe offers a demo version of the high-performance QDesign MP3 encoder with 20 free runs (unlocking optional).

RemixMode

Take your favorite classical track or a chart hit to make your own remix. You can use the buttons on the turntables as single tracks. For example: weird drums, pumping basses, sharp riffs, new vocals, etc. A vast selection of the coolest beats, loops, and effects on the two added CDs. Make your own remix within a few minutes! Each operation is recorded live, can be complemented via overdub or improved and edited in detail in the event editor.

Video-engine with animations

Perfectly synchronize music with videos! In the PlayMode as well as in the RemixMode a comfortable Video-engine is available for you. Pure playing and mixing is possible without any problems and precise editing of your video versions. Furthermore you have some phat animations at your disposal. Of course everything is full screen and is controlled via the rhythm of the music. In the special video controller you have a vast selection of great 3D effects such as haze, reflection, mercury, and many more. You also have several mix options -- blue box, ghost effect, relief, and many more. Plug in your own camera and use the live input channel. By this you add video effects to your recordings or even control the music with your movements (motion control).


HiFi / PlayMode
Music- and video-jukebox

Everything according to your personal instructions

Temporal course programmable

All-round archive and Internet download via FTP

MP3 finder (search engine for the web)

Auto crossfades between the songs (editable)

Automatic title recognition, song info, and many more (CDDB 2TM)

Input and processing of analog recordings (vinyl, tape etc.)
DJ / RemixMode
2 turn tables for mixing, remixing, and mega mixing of your favorite tracks

BPM recognition, effects, filter, EQ, panorama and many more

Adjustable cross fades and play list for your party mix

Tempo and pitch adjustment in real-time

Live mixing via mouse, keyboard, or joystick

16 free single tracks for beats, instruments, vocals etc.

Multi-track mixer with live input, effects, and DirectX interface

Real-time recording and editing of all events in the remix editor
Video skills
Rhythm-controlled videos and animations (full screen)

Mixing and arranging of 2 videos per turn table

Live controllable 3D effects and video input channel

Motion control (control of the music via camera)
Import / Export
Conversion into MP3 files (QDesign? Encoder Demoversion)

Import of CDs and videos while playing

Ripping of CDs and import of all common formats (MP3, MP2, WAV, AVI)

Export in MP2, WAV, WMA and MP3 (optional)

More than 1,000 sound loops, videos, and many more on 2 CDs
Pentium with 200 Mhz (400 MHz) minimum

Windows 95, 98 2000, or NT (also works on XP)

32 MB (64 MB) minimum

100 MB free disk space minimum

Resolution 800 x 600 with 16 bit High-Color

16 bit sound card

CD-ROM drive

Microsoft mouse or compatible

DirectX 6.1.