PrintMaster Silver 15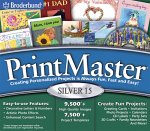 Brand New CDRom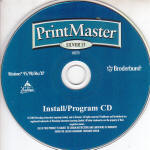 Experience the software that gives your creativity free rein: PrintMaster 15 Silver. Bursting with nearly endless project possibilities, thousands of inspiring art and photo selections, and a host of easy-to-use design tools, this CD-ROM will set your creative spirit free. From cards and crafts to photo projects, newsletters, and more, you'll be ready to design virtually anything you can imagine. Ideal for newcomers and experienced home publishers alike, PrintMaster 15 Silver offers a complete creative outlet.

Enjoy all of the classic features you've come to expect from PrintMaster, including built-in event reminders, drawing tools, and advanced keyword search capabilities. With more than 7,500 project templates at your fingertips, you'll always have an excuse to get inspired.

Find precisely the image you need in moments with an enhanced content search feature. The Party Creator Wizard is your ticket to professional-quality invitations, banners, center pieces, place cards--even party hats. It's all coordinated with the click of a mouse. Use the tool's handy card converter to resize any card with ease, and make the most of every image using integrated photo tools with dramatic artistic effects.
* 6,980 graphics on CD, 3,016 graphics online, 1,499 upgrade graphics
** Some templates online
200 MHz Pentium processor or faster (300 MHz Pentium II or faster for Windows XP)

Microsoft Windows 98, 2000, ME, XP

64 MB RAM (128 MB RAM for Windows XP)

Minimum 270 MB hard disk space (space required can vary if you already have one or more required components--such as Microsoft Internet Explorer--installed on your system; minor adjustments to your system configuration and/or updates to the hardware component drivers may be required)

4X or faster CD-ROM drive

800 x 600 display (16-bit high color)

Windows-compatible mouse, sound card, and speakers

Windows-compatible printer (monochrome or color)