Printmaster Homework Helper

Brand New - CD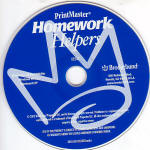 Imagine the perfect software program for your kids—one that's fun to use, inspires them to explore their creativity, and makes them excited about doing their homework. With PrintMaster® Homework Helpers, you don't have to imagine!

Complete with a rich creative library featuring more than 6,000 premium images and over 550 projects designed specifically for school projects, your child has everything they need to create unique and colorful book report covers, 3D models, flash cards, historical timelines and more. Plus, you can import your own photos to personalize each project and give it a one-of-a-kind sense of style. Best of all, step-by-step tutorials make it easy for any child from Kindergarten on up!

Design eye-popping projects with more than 6,000 images and over 550 pre-designed templates to choose from.
Create your own projects and designs from scratch to come up with something completely original!
Add a personal touch to any project by importing your favorite photos to use in your project!
Learn how to create top-quality projects and find answers to your questions with step-by-step tutorials.
Choose from a wide variety of pre-designed projects including book report covers, educational games, flash cards, certificates, bookmarks, mobiles, and much more!
Includes retail CD in windowed sleeve - all documentation on CD.
Platform: Windows® 95/98/2000/Me, Windows NT® 4 or Windows® XP
CPU: 200MHz Pentium® processor or faster (Pentium® II 300 MHz or faster for Windows® XP)
RAM: 64MB RAM Minimum 200MB hard-disk space (128 MB RAM for Windows® XP)
Media: 4x CD-ROM drive or faster
Video: 800x600 display (16-bit high-color)
Sound Card: Windows® compatible sound card and speakers
Other: Windows® compatible mouse, Windows® compatible printer (monochrome and color), Microsoft Internet Explorer 5 (provided on install CD-ROM), 33.6 Kbps modem or faster and Internet service provider account required for Internet access, online projects, online greetings, web site publishing, and animated greetings.