PrintMaster Platinum 17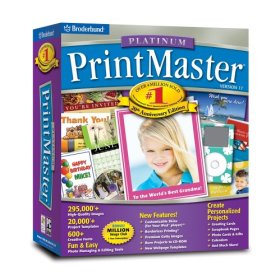 Brand New
Factory Sealed Retail Box
PrintMaster Platinum Version 17 features thousands of images and ideas to help you design everything from basic greeting cards to iPod skins, full stationery sets and seasonal decorations. If you've got a passion for creative self-expression, you'll find endless inspiration in this sophisticated, easy-to-use program. Enjoy all of the great features you expect from PrintMaster, plus brilliant new upgrades that make personal creativity easier – and more rewarding than ever. If you can imagine it, you can create it and share it with PrintMaster.

Create Personalized Projects:
Aprons
Banners
Booklets
Book Report Covers
Bookmarks
Brochures
Business Cards
Calendars
Cards
CD Labels
Certificates
Coupons
Crafts
Customizable Skins (for your iPod player)
Dioramas
Educational Projects
Envelopes
Flash Cards
Forms
Gift Wrap
Hand Crafted Sets
Hats
Invitations
Iron-Ons
Labels
Letterhead
Masks
Menus
Newsletters
Note Cards
Party Goods
Photo Albums
Photo Frames
Photo Greeting Cards
Photo Novelties
Pop-Up Toys
Postcards
Posters
Recipe Cards
Self-Mailing Invitations
Stencils
Stickers
Web Pages
Greeting Cards:
Anniversaries

Birthdays

Get Well

Holidays

Mother's Day

Thank You

Weddings

and more
Enhance your creations with over 295,000 premium images in every theme and style.*

Getting started is as easy as 1-2-3! Just choose one of 20,000+ professionally-designed projects,* add your own personal message or photo and print it's that easy!

New! Bonus access to over 1.5 million additional images

NEW! Web publishing templates. It's never been easier to create your very own personalized Web page. Select from over 300 pre-made templates and follow the easy wizard steps to publish your creations online to share with family and friends.

NEW! Delight your friends and family with custom-designed Animated Greetings. The quickest, easiest way to show you care!

Get the most out of your printer with PrintMaster Platinum's Enhanced Printing Resolution your cards and crafts look more like they were store-bought and less like they came from your personal printer.

Access all of your favorite images, photos, headlines, logos and more from one convenient location with the new Hot Shots Viewer. A terrific drag-and-drop timesaver!

Easily incorporate photos into any project. Even transform your favorite shots with a full suite of photo editing tools like cropping options, effects and filters, excellent handling of high resolution images and more!

Create coordinated invitations, decorations & even party hats! with the Party Set Creator. You'll find designs to suit every theme.

Share your photos on online with family and friends anytime and anywhere by posting them to an online photo album.

Windows 98SE/ME/2000 SP4/XP (Home and Pro) SP1***

Pentium III 500 MHz processor or faster

128 MB RAM

Minimum 1.2 GB hard-disk space* (recommended: 250 MB of hard-disk space free after installation)

4xCD-ROM/DVD-ROM drive

800x600 display, 16-bit color

CD burning requires a CD-R/RW or a DVDR/RW drive

Microsoft .NET Framework v1.1 (included on DVD)

Microsoft Internet Explorer 5.5 or higher

33.6 Kbps modem or faster and Internet service provider account required for Internet access**

Windows-compatible sound card and speakers

Works with most popular printers supported by Windows