Reader Rabbit Kindergarten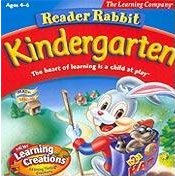 Brand New CD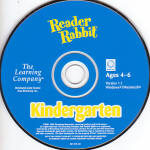 Learn, play, and sing with Reader Rabbit and friends! / Ages 5 to 7

Reader Rabbit Kindergarten helps children develop the core learning skills they need, for later academic success. Kids will travel with Reader Rabbit as he teams up with Irvin the Inventor and tries to find out why it's raining umbrellas, raincoats and galoshes.
Kids will discover 7 different activities, all full of adventure and discovery

Fun games like Cloud Spelling Challenge, Raingear Forest Math, and Gumball Science teach math, science, problem solving, and more

Filled with videos, tunes, and characters
Includes full version CDRom in sleeve only - no retail packaging.
Windows Requirements
Windows 95/98/Me/XP (also compatible w/ Vista)
486/66 MHz or better
16 MB of RAM
15 MB free disk space
SVGA display and 256 colors
2X CD-ROM drive
Sound Card

Macintosh Requirements
Mac OS 7.1 or higher
Any PowerPC or better
16 MB of RAM
15 MB free disk space
256 color graphics display
2X CD-ROM drive