Small Business Legal Pro 3

Brand New - CD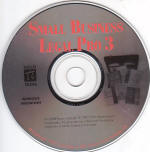 As a small business owner, you face complex legal questions every day. Now, for less than the cost of an hour with a lawyer, you can get clear and concise answers instantly with Small Business Legal Pro. Packed with more than 120 business forms and the complete text of six Nolo business bestsellers, this essential small-business tool includes hundreds of pages of high-impact, low-cost marketing strategies to help your enterprise grow and succeed. This software, on a Win/Mac CD-ROM, includes the complete, searchable text of these Nolo bestsellers: Legal Guide for Starting and Running a Small Business, Vol. 1; Legal Guide for Starting and Running a Small Business, Vol. 2; Legal Forms; Tax Savvy for Small Business; The Employer's Legal Guide; Everybody's Guide to Small Claims Court; and Marketing without Advertising.

Create more than 50 business letters and documents
Choose from business forms such as credit applications, demand letters, and contracts
Find information in a snap with random-access text searching and keyword index
Search the multilevel table of contents or connect to the hypertext links
Print out and copy text, create bookmarks for easy access, and attach notes
Includes retail CD in windowed sleeve - all documentation on CD.
386 or faster processor (486 recommended) . Microsoft Windows 3.1 or 95; DOS 5.0 or higher . CD-ROM drive . SVGA (640 x 480 with 256 colors) . Graphics card . Mouse