Tonka Town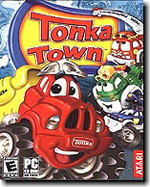 Brand New
Factory Sealed Retail Jewel Case
Join Chuck The Dump Truck and all of his Tonka friends, in the town where every building and vehicle talks - even buildings and parking meters! You will sign in and create your own personalized license plate. There are so many jobs to do in Tonka Town. You can do everything from collecting the mail, to picking up litter, to putting out fires around town using one of the four trucks to complete your mission. With teamwork, you and your favorite Tonka Town buddies can help save the day.
Encourages critical thinking

Fosters listening skills

Emphasizes teamwork

CB Radio allows you to switch trucks at any time during the game

Tonka Town map displays all of the buildings in the town

Mission Meter tracks your mission progress for you

Print certificates and coloring pages

Difficulty Levels

Collect and Deliver Missions
There are several mission where you must find a collection of missing items. You can find most of the items just about anywhere around town. You can find others items, like coins and mail, in the parking meters and mailboxes.

Race
Drive any of the truck to M. LE Scoreboard. Your truck will be taken to a racetrack and paired against one of the V8 crew. The race pairing depends on which truck you are currently driving. Watch out, because your opponent might try ot slow you down by dropping things like oil slicks and tacks.

Construction Zone Catch
Oh no! Chris Crane has swallowed his lunch whole! Now he's got a bade case of the hiccups and he's dropping construction materials everywhere. He needs your help!

Fire Fighting
Lightning has struck a dumpster outside of some Tonka Town buildings. Wind has blown the sparks, and there are fires raging around the buildings! They need your help to put out the fires.

Police Chase and Bump
What are we going to do with that V8 Crew? They are teasing some of the buildings in Tonka Town again. Can you bump them out of Tonka Town back to V8 Ville where they belong?

Trash Collection
Things are really getting out of hand. The Tonka River is full of trash. Can you help fish the trash out of the river?

Windows 98, Me, 2000, XP (also compatible w/ Vista)

Pentium II, 350MHz or greater

64MB of RAM

80MB free hard drive space

4MB SVGA Windows 98/Me/2000/XP and DirectX 9.0 or higher compatible video card

16-bit Windows 98/Me/2000/XP and DirectX 9.0 or higher compatible sound card

8X CD-ROM Drive