Typing for Dummies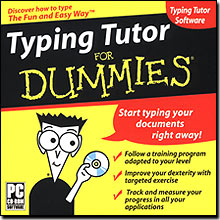 Brand New
Factory Sealed Retail Jewel Case
How are you supposed to figure out how to type faster and better on a computer when every software program assumes you already know how to type? Welcome to Typing Tutor For Dummies, an easy to-use program that provides keystroke drills, text and dictation practice, games, and other helpful tools to improve your typing. Thanks to its ergonomic design and intuitive interface, using Typing Tutor For Dummies is a snap for beginning and experienced typists alike.

Typing Tutor For Dummies is a simple program that is broken down into ten workshops, which are specialized programs that help you improve your typing skills. You can identify each workshop by its tab on the top of the screen. After you create your user profile, the workshop tabs remain accessible no matter what exercise you perform. You can therefore easily jump from one training workshop to another. Typing Tutor For Dummies moves you along a preset training program designed to build your typing speed and reflexes. If you try to pick an exercise out of order, a message reminds you of where you are in the training program. After you meet your goals for each exercise, you can continue to the following exercise.

After you demonstrate that you know where the keys are by typing them, the practice exercise begins in a new window. You have a limited amount of time to copy the sequences of letters appearing in the exercise window by typing in the area beneath each letter. Be sure to type spaces in the appropriate places. If you make a typing mistake, an alert sounds and you must correct the error. Until you type the correct letter, you canít proceed to the following character. Exercises generally consist of two or three pages of lines of characters. To motivate you and let you know where you are in your progression toward mastering the keyboard, Typing Tutor For Dummies puts a number of detailed statistics at your disposal.
Summary Table
It reflects your entire performance to date, in terms of both the number of errors youíve committed and the word-per-minute average youíve attained. The latter figure is, in fact, an estimate determined by the program according to precise criteria, because for most exercises you donít actually type words, but letters. You have three different tabs at your disposal.
For the fingers: Reveals the quality of your finger placement.

For the characters: Analyzes the relevance and accuracy of the keys typed.

Keyboard: Graphically shows your progress across the keyboard.

Speed Chart
Your typing speed is presented either finger by finger (for the fingers) or key by key (For the characters) ó the two figures are not the same, because your fingers are constantly moving! The results are presented in bar-graph format. You can thus determine in a single glance any weak points you may have.

Error Chart
This chart presents the same breakdown of information as the Speed chart section, but this time displays your error rates.

Report Section
This section displays a text report summarizing all the information explained in prior sections. If you like, you can print this report and compare it to
those of other users, for example.

Dictation
Typing Tutor For Dummies also offers a complete section devoted to dictation on the Dictation tab. These exercises help you practice typing the words another person speaks. In these exercises, you can type while looking at either your screen or even your keyboard from time to time, if you feel the urge to. A number dictation exercises are available to you (around 20 in all), some of which are Spanish-language. You can work on any of the dictations offered in any order. After you finish the first of the series, a second series will appear, and so on.

Practice
On the Practice tab, you, well, practice intensively. The idea behind the Practice workshop is to have you copy large amounts of text. Some of the texts have a meaning, while others do not. Depending on the type of person you are, text that has a meaning may either improve your typing or simply distract you. The texts have been assembled into six categories, four of which are English-language and two of which are Spanish-language. You select and open a category of texts by double-clicking it. The screen now displays a series of icons, each corresponding to a particular text. Just as in the Dictations tab,
you can complete the Practice typing exercises in any order you choose.

Ergonomics
The Ergonomics tab of Typing Tutor For Dummies includes a collection of sensible, practical advice to help you make the most out of your daily workspace. Sitting position, screen position, ideal temperature and humidity . . . ergonomics can show you everything you need to know for establishing the right conditions for proper keyboard typing.

Deadline
Deadline kicks things up a notch both in terms of realism and the stress that real-life conditions can create. In this game, you do the job of an administrative assistant. Your role is to type a text within a 15-minute space of time. Only now, youíre in an office and not a minute goes by without your being bothered by the telephone or e-mail messages. You have to answer these messages without losing sight of your main objective: typing your text. Before starting your game, it is advised you to take a look at the game rules to avoid any confusion about what to do as challenges appear on-screen. Depending on the level youíve reached working through the Typing Tutor For Dummies exercises, you can choose your difficulty level as Easy, Average, or Difficult.
The Dictaphone: The game begins with the text proposed by the Dictaphone. Note that this text is not actually dictated but displayed on your screen. Use the Dictaphone buttons to navigate through the text you are to type.

The Telephone: Look out ó the phone might ring at any moment. If it does, pick up the receiver and answer the caller by selecting the phrase of your choice. Try to keep things as short as possible so you can get back to the main text.

E-mails: And as if that werenít enough, you must also reply to your e-mails. Here, too, be concise and try to make as few mistakes as possible while typing the suggested sentences.

Windows 98, Me, 2000, XP

Pentium 200MHz or higher processor

32MB of available RAM

80MB free hard disk space

Sound Card

Windows compatible mouse

CD-ROM Drive or DVD-ROM Drive