Where in the World is Carmen Sandiego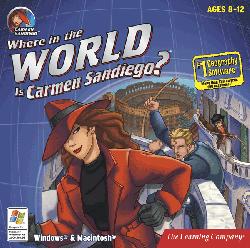 Brand New CD-Rom

Turn World Geography in a Thrilling Crime-Stopping Chase

Expand your knowledge of world geography as you track villans' trails through 50 beautifully painted, scrolling landscapes from around the world, each rich with history, culture and music. Learn more about each country and culture you visit through spoken clues from over 200 animated characters you'll meet along the way. Or take a guided tour with one of the ACME Good Guides™ and collect clues for future cases.

Plus, the Multimedia Library is filled with essays, spectacular color photos, and video clips from the National Geographic Society.

Get ready to travel the world, encounter exotic sights and sounds, meet unusual people - and arrest them. Carmen Sandiego's international crime ring is furiously filching world treasures ordinary thieves wouldn't dare to tackle. Why do you think the Mona Lisa's smile is missing? And you know Achilles' heel didn't just walk off by itself. We're counting on you, Gumshoe. So...

Get on the case. Check in with the Chief, via ACME's Satellite Network for the lowdown on the latest heist.

Start your worldwide chase. Use the travel map to plan your pursuit. It's a non-stop game of cat and mouse as you take off to exotic locations, hot on the trail of the crooks.

Interrogate informants. Gather evidence that identifies the fleeing fugitives and their whereabouts.

Crack clues by the book. Use the World Geography Reference Book (World Almanac) to decipher details of the looters' locations.

Go for the Warrant. When you think you've got the goods on the bad guys, submit your evidence, make the collar, and go to court. But beware. Your evidence must be airtight or your suspect will go free.
Smithsonian/Folkways music from around the world

Learn foreign language phrases

Over 500 spoken foreign language clues

Appearances by "The Chief" from PBS

Multimedia Library with keyword search

Nearly twice as many Spectacular video & photos from National Geographic Society

15 more countries (60 in all)

Over 900 new clues (3600 in all)

Over 200 animated talking characters

Carmen Sandiego is a winner because whatever else the title is or does, it's profoundly fun. The more fun it is, the theory goes, the longer kids play. And the longer they play, the more they learn. This is the essence of "stealth" education. What gets kids who play Carmen Sandiego so excited and involved is the thrill of the pursuit, not the facts they learn along the way. But the facts are unavoidable.

Includes CD in sleeve - instructions on CD.

Windows - 20MHz 386 or faster required: 486 or faster recommended for Windows 95/98 or Me, 4MB RAM for Windows 3.1, 8MB RAM for Windows 95, 4 - 12 MB hard disk space, CD-ROM drive, SVGA monitor/display card (640x480, 256 colors), Windows compatible sound device, works with most popular printers (monochrome and color) supported by Windows.
Macintosh - Macintosh and Power Macintosh, System 7.0.1 or higher, 20 MHz 68030 processor or faster, Power Macintosh, 4MB RAM with 2.5MB free, 1 - 12MB hard disk space, CD-ROM drive, 12 inch or larger color monitor, 256 colors, works with most popular Macintosh compatible printers (monochrome and color