Zoboomafoo 3 Pack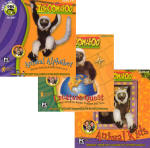 Brand New
The Hit PBS KIDS TV series is Leap, Leap, Leaping onto your computer! - Zoboomafoo™ is the first wildlife series created especially with preschoolers in mind. Real life "creature adventurers" Chris and Martin Kratt join with a friendly lemur, Zoboomafoo, to host a lively group of animal friends in their adventure outpost "Animal Junction." Includes 3 full version games - Zoboomafoo Animal Kids, Creature Quest & Animal Alphabet.
Zoboomafoo Animal Alphabet
A Complete Zoboomafoo Interactive Adventure! There's a treasure hunt at Animal Junction! Watch your child's eyes light up as they go in hot pursuit of hidden treasure and amazing animal discoveries with their favorite leaping lemur! Adventure is waiting around every turn with eight interactive activities, like Counting Coyotes and Chameleon Patterns, to help your child build skills in numbers, phonics, memory, and more!
Explore eight fun-filled animal activities, including: Chameleon Patterns, Foxy Hide 'n' Seek, Tent Shadows, Noggendrill's Maze, Counting Coyotes, and Spot the Difference.

Meet interesting new animal friends and learn about where they live with the Creature Fact Book.

Enjoy the sights and sounds of Zoboomafoo and friends with real animal videos and fun sing-along songs!

Print activities and treasure maps to keep the fun going, even when you're away from your computer!

Reward your child's growing skills and accomplishments with printable Treasure Hunter certificates!
Zoboomafoo Creature Quest
Join Zoboomafoo, the lovable leaping lemur, to explore letters, early reading and the wacky and wonderful world of animals! Kids will discover 26 different creatures – one for every letter of the alphabet. The eye-popping adventure is filled with learning games, animal videos and printable activities. Come on, let's meet a rhinoceros and make pals with a penguin!
Zobooland Jumble - Run a race through Zobooland! Unscramble jumbled names and count each space 'til you cross the finish line. Hooray

Alphabet Noodles - Wiggy Waxworm is hungry for root noodles! Pick just the right alphabet noodles; then watch Wiggy slurp them up. Yum!

Creature Concert - Crazy critters sing out in their best animal voices. Can you play the sounds back in the same order and make animal music?

Animal Mix-Ups - Zoboo likes to dream up really wacky animals! Combine heads, bodies and tails - and learn to pronounce each new animal's name.

Chameleon Coloring - A purple cow? A green giraffe? Get creative with a colorful chameleon. Plus, these pages are printable for coloring on the go.

Penguin Pong - Brrr - it's cold! Bounce ice cubes off the penguin's iceberg to break the blocks and answer Zoboo's animal riddles

Animal Race
Who will win the Animal Race in Zobooland? Help Zoboo's friends answer questions about the animals visiting Animal Junction and win the race.

Snack Catcher
Look out, the Snack Machine has exploded! Help Zoboo catch all the falling snacks in his basket.

Who Could It Be?
What animals did Zoboo see on his way to Animal Junction? Turn over the cards and find matches to see who it was.

Zobooland Coloring
Color pictures of friends from Zobooland on your computer. Or print the pictures out and color them with your crayons, paints or markers.

Windows®
Windows® 95/98/Me/2000/XP (also compatible w/ Vista)

Pentium® II 233 MHz (300 MHz for Windows® XP) processor (or faster)

64 MB RAM (128 MB RAM for Windows® XP)

20 MB free hard drive space

Thousands of color display (High Color 16-bit) set to 640 x 480 resolution

4X speed CD-ROM drive

Sound card and speakers compatible with Windows®

Mouse

QuickTime® 4 or later

Macintosh®
Macintosh® OS 8.1 – 9.1

200 MHz PowerPC® processor

64 MB RAM

20 MB free hard disk space

4X speed CD-ROM drive

Mouse

QuickTime® 4 or later